Father X shares the traditional doctrine:
"Let God arise and let His enemies be scattered. Let them that hate Him flee from before His face," words taken from the Introit for this eleventh Sunday after Pentecost. In the name of the Father, and of the Son, and of the Holy Ghost, Amen.
The great South American Jesuit missionary, Saint Peter Claver (he died in 1654)- he often spent some five consecutive hours in prayer before going out to fulfill his duties. His basic schedule, for something like forty-five years of his life, ran like this: As night fell, he slept for a short while, often three hours or so. Then from midnight to 1:00 he got up to enjoy, so he said, "the silence and peace which God granted him when all slept".
Then either kneeling or prostrate on the ground, often with the symbols of the Passion on him- like the crown of thorns or a rope around his neck or crucifix in hand- he prayed until 6:00 in the morning. Then he went out to work.
Not surprising, like many of the saints, he had a special gift for bringing
souls to God- especially those who seemed farthest away. Among them were those condemned to death by the state; those under the death penalty, the capital punishment. They became his friends, and the officials always called him in shortly before their execution. He would hear their confessions and offer Mass for them in prison. He often instructed them … Read the rest
I'm expecting questions from confused kids over the coming few meals, so I'll just say it now: Yes, the reports are true, this Pope has in the most formal and authoritative way yet *tried* to change the doctrine of the Church. No, it's not a secular media conspiracy. No, it's not a quote taken out of context that he's declined to correct. No, the Pope cannot change Catholic doctrine. Thus, the confusion.
No, I don't want to talk about whether the Cardinals will do their duty and confront the Pope for his heresy. No, I don't want to speculate whether he will repent. No, I don't want to guess whether the Cardinals will then declare him deposed by God and elect some other Cardinal to fill the vacancy.
No, I don't want to talk about how one refers to the man who occupies the See of Rome but who is apparently no longer a Bishop of the Catholic Church.
No, I don't want to talk about whether I can attend a liturgy said "in communion" with a man who is apparently no longer a member of the Catholic Church.
No, I don't want to talk about whether it is the first time in 1,986 years we've had a living Pope emeritus, a living anti-Pope and no actual Pope.
No, I don't want to talk about why we deserve weak, corrupt Bishops, Cardinals and Popes who hate the faith and the faithful.
No. No. No.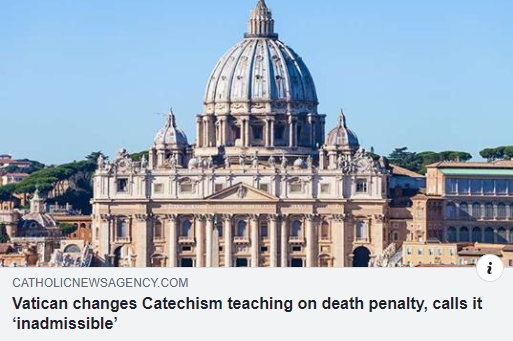 …
Read the rest